Building a business that stands the test of time is a primary goal for most dental practices. While there are many aspects of practice building to consider, creating an exceptional patient experience—one that adds value to every visit—is inarguably key. A proven way to accomplish this is by gifting dental products to patients after each appointment. Not only can this help them maintain good oral hygiene habits between visits, but they'll also think of you virtually every time they care for their teeth and gums at home.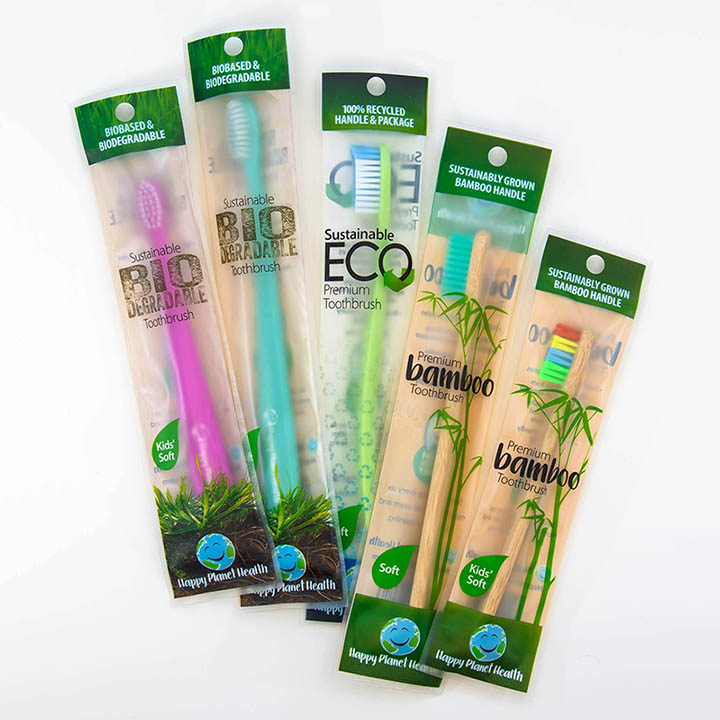 A Unique & Sustainable Giveaway
Since 1979, Quantum has helped dental practices across North America provide patients with uniquely memorable experiences by supplying premium dental products. Quantum offers its own line of practice-building products—high-quality toothbrushes, floss, reusable and paper gift bags, and more—for a fraction of the price that major brands charge. Many of these items can also be personalized, ensuring patients will leave your office with something to remember you by.
Now, Quantum is taking value to the next level with Happy Planet Health, a selection of sustainable toothbrushes for adults and kids, available exclusively to dental offices. Made from natural, biodegradable, and recyclable materials, Happy Planet Health delivers the performance you'd expect from a clinical toothbrush in an affordable, eco-friendly package.
The Happy Planet Health line features 3 sustainable toothbrush designs in professional recyclable recycled packaging:
         ECO Toothbrush—Made from premium recycled plastic, it features soft, gum-friendly bristles, and is only available for adults.
         Bamboo Brush—Features a smooth oval head and handle crafted from sustainably-grown, biodegradable bamboo, which provides natural antimicrobial properties. This brush comes in assorted case with 2 bristle colors (soft green and blue) colors for adults, plus an eye-catching rainbow bristle option for kids.
         Bio Brush—a plant-based toothbrush with a biodegradable handle and ultra-fine flossing bristles with versions for kids and adults.
Elevate Your Practice Brand
Whether you're just starting to "go green" or are well into a dedicated sustainability initiative, Quantum's Happy Planet Health is a smart and cost-effective way to support the environment and your business. As an added plus, it elevates your brand by giving patients something they can't find elsewhere, while letting them know that you care about preserving our planet as much as they do.
To learn more about growing a sustainable practice with Happy Planet Health toothbrushes and find other great sustainable practice-building solutions, visit Quantum's Happy Planet Health webpage.